Put yourself in good company.
Help us build The New Keegan Theatre.
The Keegan Theatre has always been about people. The community of actors, directors and designers who define us. The many donors who have sustained us over the years. And the audiences whose growth has been a constant vote of confidence. We are truly in good company!
The NEW KEEGAN THEATRE is just around the corner!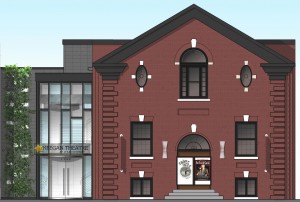 The New Keegan Theatre is on the way! 
In August, our contractor, ThinkMakeBuild, started the renovations to our historic Church Street venue! Thanks to generous donations, we've raised over 75 percent of our $4.4 million dollar goal to fully modernize The NEW Keegan Theater. We're moving forward at warp speed toward our 18th season, which kicks off in summer 2015 … just a short six or seven months away.
The renovations will:
Open up the lobby with outdoor glass vestibule and three-story contemporary design, while retaining the unique and historic external beauty of the existing building
Add five modern new restrooms – on main lobby

and

upper mezzanine levels!
Make the theater ADA-accessible
Install more comfortable seats with added legroom
Upgrade lighting, sound, rigging and temperature-control systems
Fully excavate an additional basement level providing classroom and rehearsal space
The new Keegan Theatre will give us the facility we need to best serve our audiences, our neighborhood, and the artists who create our shows.  But a big challenge remains.
If you would like to support our In Good Company campaign, please click below to donate, or contact us at ingoodcompany@keegantheatre.com.
---
Take a seat….
A pledge of support in the TAKE A SEAT Program is a personalized, meaningful way to support Keegan Theatre's capital campaign and have a permanent seat in good company. Name a seat for yourself, your family, a friend, or a business: The name of your choice will be engraved on a plaque and affixed to the seat of your choosing.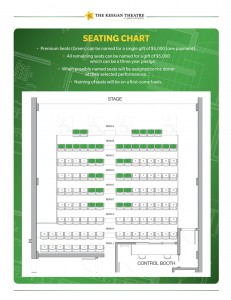 For $5,000, you can create a permanent impression on this state-of-the-art venue, designed to serve the Washington DC area's cultural community for years to come.
Premium Seats (Green) can be named for a single, one-time gift of $5,000.
All remaining seats can be named for a gift of $5,000, paid over a three-year pledge.
When possible, named seats will be assigned to the donor at their selected performances.
Naming of seats will be on a first-come basis.
Please email us at ingoodcompany@keegantheatre.com for more information about the Take a Seat program — or if you would like to claim your spot in our building's history today, click below and make your gift!
Or maybe you're interested in something grander?



Check out our Naming Opportunities page for more opportunities to support.
We want to continue to produce provocative, entertaining, first-rate theater that explores the human condition, and we need your help to do it. We cannot do what we do without the generosity of donors, supporters, and audience. Every little bit counts as we strive to keep our dream alive and strong!