Put yourself in good company.
Help us build The New Keegan Theatre.
The Keegan Theatre has always been about people. The community of actors, directors and designers who define us. The many donors who have sustained us over the years. And the audiences whose growth has been a constant vote of confidence. We are truly in good company!
The NEW KEEGAN THEATRE is now open!
On June 27, Keegan Theatre reopened its doors with a ribbon-cutting ceremony.  Our contractor, ThinkMakeBuild, completed the renovations to our historic Church Street venue – on time and on budget!  Our 18th season is now underway.
The renovated theatre boasts:
An outdoor glass vestibule and three-story contemporary design, retaining the unique and historic external beauty of the existing building
Five modern, new restrooms for our audiences – on main lobby

and

upper mezzanine levels!
ADA-accessibility
More comfortable seats with added legroom
Upgraded lighting, sound, rigging and temperature-control systems
Fully excavated basement level providing classroom and rehearsal space
The new Keegan Theatre has given us the facility we need to best serve our audiences, our neighborhood, and the artists who create our shows.  But a challenge remains – finishing our artists' basement and continuing the upkeep and management of a new, significantly larger facility means additional costs for Keegan.
If you would like to support our ongoing In Good Company campaign, please click below to donate, or contact us at ingoodcompany@keegantheatre.com.
Take a seat….
A pledge of support in the TAKE A SEAT Program is a personalized, meaningful way to support Keegan Theatre's capital campaign and have a permanent seat in good company. Name a seat for yourself, your family, a friend, or a business: The name of your choice will be engraved on a plaque and affixed to the seat of your choosing.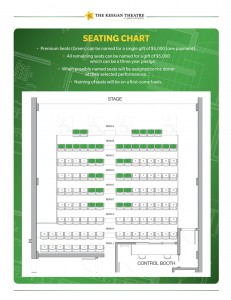 For $5,000, you can create a permanent impression on this state-of-the-art venue, designed to serve the Washington DC area's cultural community for years to come.
Premium Seats (Green) can be named for a single, one-time gift of $5,000.
All remaining seats can be named for a gift of $5,000, paid over a three-year pledge.
When possible, named seats will be assigned to the donor at their selected performances.
Naming of seats will be on a first-come basis.
Please email us at ingoodcompany@keegantheatre.com for more information about the Take a Seat program and other naming opportunities.  Or if you would like to claim your spot in our building's history today, click below and make your gift!