Explore our gallery.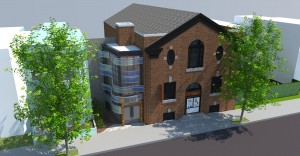 First, check out the street view of The Keegan Theatre after our renovations are complete. The stunning new glass atrium houses our new audience entrance, where patrons will enjoy elevator access to every level of the theater.
Then, turn to the floor plans for the redesign.  Two levels of comfortable seats. A spacious attractive lobby. Full ADA access. Modern rest rooms on every level.
And on the expanded lower level, what had been crawlspace and clutter will now provide the artists with classroom and rehearsal space, a comfortable green room, plus dressing rooms, a laundry and shower. This is a facility worthy of our company — and worthy of YOU, our audience!
Take the video tour.
For everyone who knows our theater today, prepare to be wowed.  And if you don't know us (there may be one or two of you), take a stroll through Washington DC's next great performance space.
* Note: Slight modifications have been made to the design since this video was created.
Contact ingoodcompany@keegantheatre.com to learn more about the campaign and get involved!