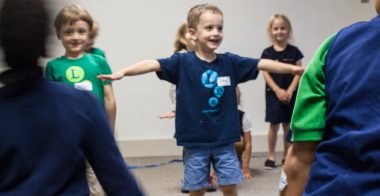 Register for fall After-school Classes!
Visit the Register page to view details of open classes and sign up online.
Keegan PLAY-RAH-KA's partnership with Lee Montessori Public Charter School's afterschool program has been a true gift for our family.  Our two children are excited to know it is "theatre day", and now sing "Consider Yourself" over and over and over and over.  Thanks to Keegan PLAY-RAH-KA and your outstanding instructors for bringing theatre that teaches self-expression, confidence and creativity into our school community!
Engaging, encouraging, great, innovative, original.
Thanks for providing a great experience for my child.
As a theatre instructor, it was a beautiful experience to see students giving of themselves on stage, selflessly. And to see the support and community that they built amongst the cast was awesome. It was a fresh breath of air for me and allowed me to dare and dive even more with my students to produce more of their own works.

The greatest strength of this program is that the staff is a strong working ensemble.
My child used to be a rookie, now he's a Legend.
See what's up with Keegan PLAY-RAH-KA
Choose PRK productions by age group recommendations.
Based on the familiar Irish folktale, HOW TO CATCH A LEPRECHAUN follows the comical adventures of the wistful minstrel Riley O'Really, who really wants to catch a leprechaun. Recommended for young people age 15 and younger. (PLAY and RAH age groups)
This is a tale of growing up different. It's a fairy story – a story told by the fairies about people. And it's a love story – a story about love. Recommended for young people age 15 and younger. (PLAY and RAH age groups)