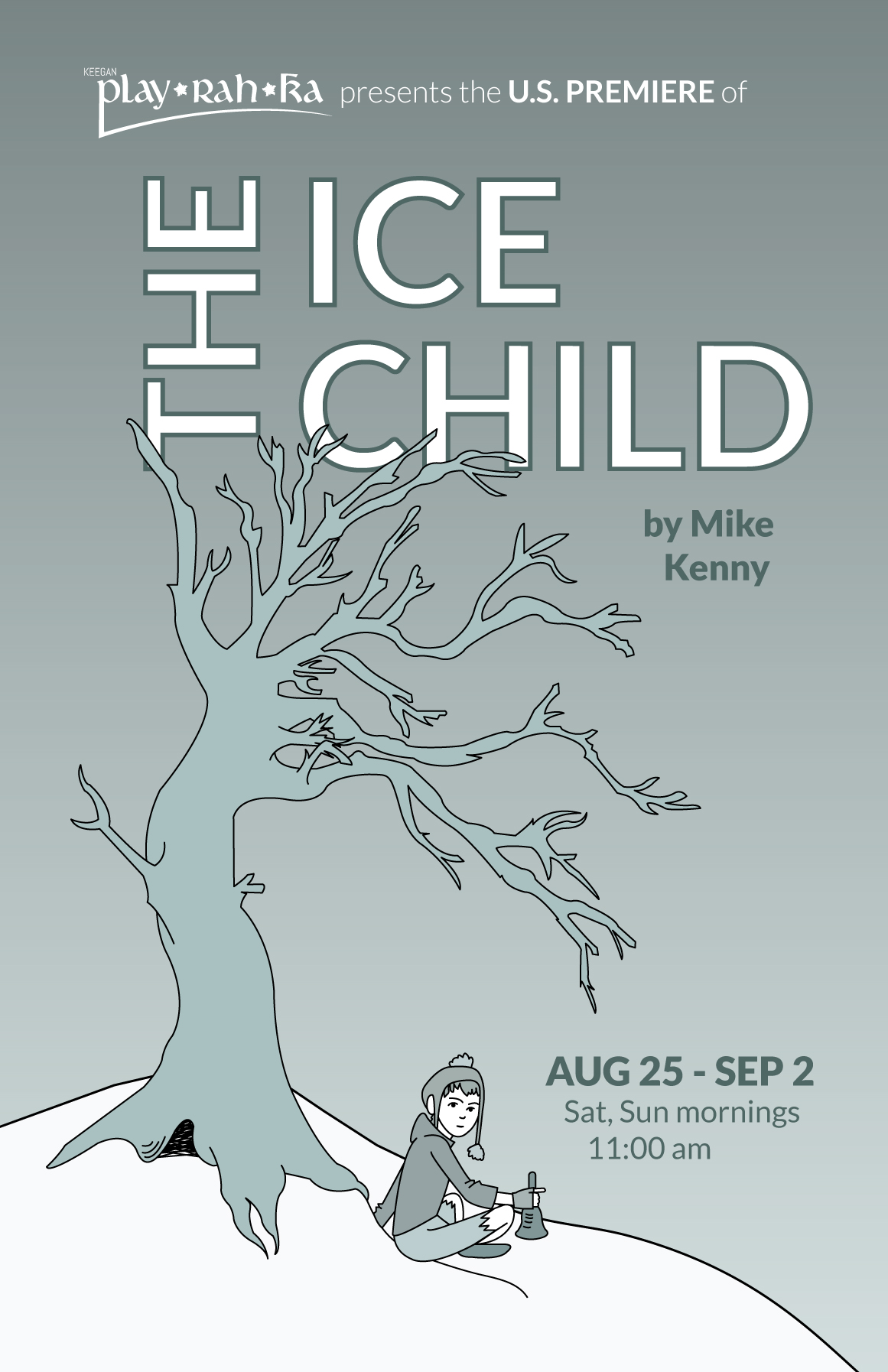 by Mike Kenny | Directed by Megan Thrift
** U.S. Premiere ** You can't trust the fairy-folk. They stole the baby and left the Ice Child in its place. The Ice Child is not like other children. He's lost in a world that doesn't understand and doesn't welcome him. The Ice Child can't be hugged, can't be cuddled. He'll melt. How do you love a child that can't be touched? And what is love anyway – when you come right down to it? This is a tale of growing up different. It's a fairy story – a story told by the fairies about people. And it's a love story – a story about love. Recommended for young people age 8 and up.
PERFORMANCES:

Sat, August 25 @ 11:00 am
Sun, August 26 @ 11:00 am
Sat, September 1 @ 11:00 am
Sun, September 2 @ 11:00 am
A SENSORY FRIENDLY EXPERIENCE
Every performance of THE ICE CHILD is Sensory Friendly!
Keegan PLAY-RAH-KA is dedicated to fostering theatrical experiences for all, and inclusiveness and accessibility are pillars of the PRK mission. Learn more about special themes in this play below and visit the Accessibility & Inclusivity page to learn more about how PRK makes productions at Keegan Sensory Friendly.
This play you are about to see centers around a boy who is "not like other children." Jonny does not talk, does not like to be touched or held, and appears to be withdrawn from the social world. He demonstrates an intense interest in bells and enjoys repetitive play with them. While the script does not label Jonny as a child with an Autism Spectrum Disorder, many of his symptoms would be consistent with that diagnosis. Autism Spectrum Disorder is a developmental condition characterized by social-communication weaknesses (e.g., difficulties with peer interactions, struggles with conversational skills) and restricted and/or repetitive patterns of behaviors and/or interests (e.g., repetitive movements, strong interests that occupy thoughts, sensory sensitivities). Jonny's inner dialogue states that he is misunderstood by others, "They don't understand me. And I don't understand them," which is a common thought amongst those with Autism Spectrum Disorders. All people have patterns of strengths and challenges and it is important to remember that is what makes us special. People who see the world differently are able to progress our society by inventing new technology, creating amazing art that has never been thought of before, and discovering things that other people would miss. By the end of the story Jonny is able to contribute to his community through sharing something that he loves. Focusing on what makes us special is always helpful and important.
This play also references the death of a parent. Speaking with children about death and dying in concrete terms is recommended. For example, you can provide a general statement of how most people do not die until they are very old. Children may have questions that you would not expect, and it is helpful to keep an open dialogue in order for your child to ask about what is on their minds. Provide them with truthful, but concise responses to all questions. If you are interested in consultation with a mental health professional regarding grieving, you can contact your insurance company to find specialists.
Some books include:
The Fall of Freddie the Leaf: A Story of Life for All Ages by Leo Buscaglia
Grief is Like a Snowflake by Julia Cook and illustrated by Anita DuFalla
VIEW MORE RESOURCES ABOUT DEVELOPMENTAL CONDITIONS
Yael Granader, Ph.D. is a pediatric neuropsychologist at the Stixrud Group (stixrud.com) in Silver Spring, Maryland, where she assesses children with developmental and medical conditions.
The Keegan Theatre and Keegan PLAY-RAH-KA can make no assurances that these performances will be suitable for everyone with autism. Parents and guardians are solely responsible for their child's viewing and engagement with these performances.
The Cast
Claire Burton
Jordan Clark Halsey
MK Sagastume
John Sygar
The Production Team
Director Megan Thrift
Scenic Designer Matthew J. Keenan
Lighting Designer G. Ryan Smith
Projections Designer Patrick Lord
Costume Designer Kiana Vincenty
Sound Designer Dan Deiter
Properties/Set Dressing Designer Cindy Landrum Jacobs
Stage Manager Thomas Nagata