MISSION:
To take audiences to the vital heart of the theater experience:  extraordinary artists in an intimate setting exploring the human condition.
VISION:
Powerful productions of classic and modern plays and musicals, offered to the community at affordable, neighborhood prices.  Our work is fueled by the highest caliber acting and design, scripts that put real people out there on the stark edges of life, and a directing approach that honors clear, authentic storytelling.

KEEGAN THEATRE: FULL VISION STATEMENT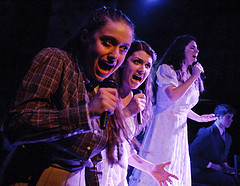 The Keegan Theatre rests on a foundation of three core artistic beliefs: that the theatre, as an art form, succeeds only in so far as it presents an honest, pure exploration of the human condition; that American audiences can be profoundly enhanced by the richness and depth of Ireland's theatrical tradition – and vice versa; and that all people deserve the opportunity to safely explore and freely develop their creative potential.
Keegan's founding members share a deep personal commitment to producing theatre the way we believe theatre should be done – by allowing actors to bring their own experience and energy to the process and encouraging them to explore the text freely; by hiring directors who promote such exploration and who are committed to an open, participatory process; by maintaining an artistic sensibility that favors story over "concept," clarity over production, and honesty over gimmick; and by selecting works by playwrights who have captured the poetry and rawness of language, playwrights unafraid to explore the recesses of the human condition. By holding fast to these principles, we believe that the theatre we create reaches our audiences in a distinctive, compelling way.
The Irish heritage of Keegan's Producing Artistic Director, Mark A. Rhea, played a pivotal role in the direction the company has developed, and in the uniquely important niche we have carved out in the theater community. Rhea's intense personal connection to and passion for the Irish people inspired The Keegan Theatre to include in our mission statement a commitment to produce at least one Irish play per season. This commitment has deepened and grown over time to become a defining characteristic of Keegan, a legacy that continues to grow as Keegan's relationships with our colleagues in deepen.
Planting the seeds of opportunity in a fertile creative mind, nurturing a young artist to his or her full potential – this is hard work, work that requires an open mind, patience, and dedication. We believe this work is vital to the growth of the community at large. Keegan staff are characterized by our personal experience in and passion for youth development. We are committed to the development of the community by aggressively searching for and nurturing new, local talent and by working with local educational institutions to identify and develop budding artists.  A number of our "intern alumni" are either pursuing undergraduate degrees in theatre or currently working on local professional stages.  We believe that the arts has a critical role to play in the development of young people and that Keegan can support and nurture budding artists, encouraging them to pursue these dreams (whether as a vocation or avocation).  Each year, we see the kids with whom we work grow in their craft and commitment to it.  This is why we work with youth.
WHO IS KEEGAN:  In Our Board Member's Words
"Theater in an intimate setting with gifted actors, creative staging and sets and outstanding American and Irish plays that explore the human condition through music, comedy and drama.  In the Dupont Circle neighborhood with a community orientation exemplified by charitable works, youth mentoring and community outreach, Keegan does it all at prices the community can afford."
-Roberta Milman
"Keegan takes audiences to the vital heart of the theater experience:  unforgettable characters confronting themselves, other people, their times and surroundings, their histories, their humanity, and their place in the world.  Our character driven-tools are the rich theater traditions of American and Ireland, both classic and new plays, presented in a lean, cut-to-the-bone style and setting, where the focus is on the strength of the actors. We are lives as they're lived, front and center.  We're tears and laughter, fear, shame, inspiration and hope.  And great nights of theater."
-Kenn Speicher
"Our trademark is telling powerful, thought-provoking stories in an intimate setting. You won't find better directing or acting, at any better price or with any comparable service, anywhere in town."
-Alison Sheahan
"For the past 13 years, Keegan has blended a fresh take on such classics as Of Mice and Men with the experimentation and risk-taking of new productions, particularly from Irish playwrights. The focus is always on connecting the characters directly to the audience and illuminating aspects of the human condition, in a spare, thought-provoking context. In Keegan's new home in Dupont Circle, we are expanding our connections to the Washington community, sharing our brand of provocative, intimate theater, at a neighborhood price."
-Ann Speicher