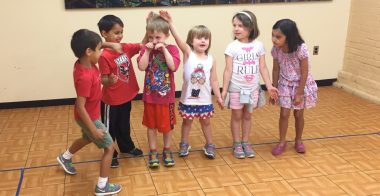 Fall fun with PRK!
After-School Classes and Fall PLAY Days are now available for registration! Learn more and sign up online.
I love Keegan PLAY-RAH-KA classes for Marie because while she is shy, she seems drawn to performance and I'm hoping it will build her confidence. She had been taking voice lessons and I think the combo of that and Keegan emboldened her to take a shared vocal lead in a school performance.

I always felt like I had positive interactions with everyone I met at Keegan and that everyone was always able to help me with or teach me something. It made coming in a very enjoyable process.  I would absolutely recommend a Keegan Internship to a friend!
Keegan PLAY-RAH-KA's partnership with Lee Montessori Public Charter School's afterschool program has been a true gift for our family.  Our two children are excited to know it is "theatre day" and now sing "Consider Yourself" over and over and over and over.  Thanks to Keegan PLAY-RAH-KA and your outstanding instructors for bringing theatre that teaches self-expression, confidence, and creativity into our school community!
Esme loved being at Keegan last week, and I appreciated all your efforts to make the kids feel comfortable and happy. Esme was initially anxious about going since none of her close friends would be there.  Beforehand, she told me she would probably hang out mostly with Malcom, but in the end, she really loved hanging out with the staff. 
We were so impressed with the camp. Neve enjoyed it and the recital at the end was so cute. I love how they write their own songs. You all are wonderful & I look forward to signing up Neve again for the fall. Also, her sister Willa will be 3 in August, and I'll definitely be interested if you decide to offer classes for her age group.
As a theatre instructor, it was a beautiful experience to see students giving of themselves on stage, selflessly. And to see the support and community that they built amongst the cast was awesome. It was a fresh breath of air for me and allowed me to dare and dive even more with my students to produce more of their own works.

I would recommend a Keegan Internship to any of my friends who are looking for an internship where they want to feel part of a team. I really feel that one of the reasons this experience was so incredible for me was that I felt part of the company, even though I was only in town for 10 weeks.
Thank you to you and your whole team for seeing and naming the gifts in our kids this week… and for being patient with their challenges.  Watching them know how the theatre worked today, being into their roles and characters, and their excitement was everything.  Thank you for being present, kind, talented and all around awesome.
See what's up with Keegan PLAY-RAH-KA
Choose PRK productions by age group recommendations.
Eric, the lone shoemaker of Grimmsville, makes shoes that are miserably uncomfortable and impossible to walk in… leaving a lot of barefoot villagers and Eric without a means to provide for his family. While alone in the woods, his daughter …
The village of Guildermere blames the dragon who lives upon the downs for their dying crops and sour milk. But this dragon is a peace-loving, poetry-spouting fellow who would much prefer a cup of tea to a battle. When Saint George arrives, …
Play with PRK at Keegan and around DC.
PRK presents FREE Story Time readings every Monday morning until November 19!
Designed for all children under age six, Story Time is led by professional teaching artists and features dramatic readings of favorite children's books along with creative movement activities that explore the themes of storytelling, bravery, understanding emotions, and diversity.