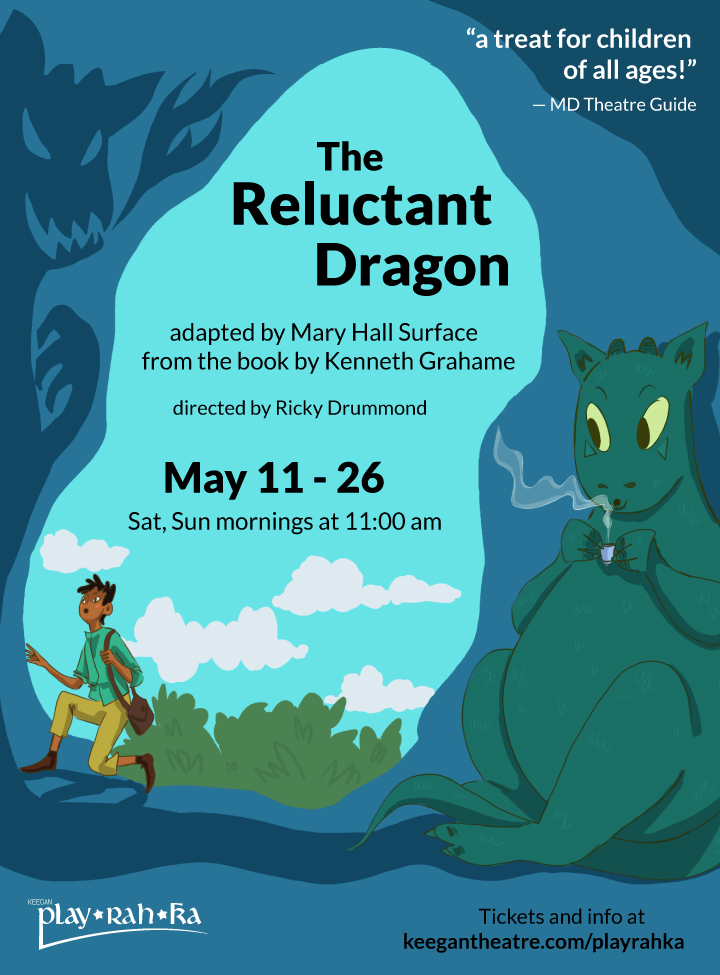 by Mary Hall Surface | directed by Ricky Drummond
Adapted from the book by Kenneth Grahame | The village of Guildermere blames the dragon who lives upon the downs for their dying crops and sour milk. But this dragon is a peace-loving, poetry-spouting fellow who would much prefer a cup of tea to a battle. When Saint George arrives, the dragon and his young friend, Glaston, face quite a challenge indeed. A charming tale of an unlikely friendship, this play for young people and families embraces the dramatic power of what happens when misunderstanding escalates into prejudice and violence.
"This revamped retelling is a treat for children of all ages. …the overall message of this show is one of tolerance and acceptance, friendship and loyalty, and the importance of staying true to your heart." — MD Theatre Guide
PERFORMANCE DATES AND TIMES:

Sat, May 11 @ 11:00 am
Sun, May 12 @ 11:00 am
Sat, May 18 @ 11:00 am
Sun, May 19 @ 11:00 am
Sat, May 25 @ 11:00 am
Sun, May 26 @ 11:00 am
A SENSORY FRIENDLY EXPERIENCE
Keegan PLAY-RAH-KA is dedicated to fostering theatrical experiences for all, and inclusiveness and accessibility are pillars of the PRK mission. Visit the Accessibility & Inclusivity page to learn more about how PRK makes productions at Keegan Sensory Friendly.
The Keegan Theatre and Keegan PLAY-RAH-KA can make no assurances that these performances will be suitable for everyone with autism. Parents and guardians are solely responsible for their child's viewing and engagement with these performances.
The Cast
Dragon Duane Richards II
Grimsby Nigel Rowe
Kendal MK Sagastume
Saint George Jonathan Helwig
Morpeth Izzy Smelkinson
Glaston Moira Todd
Woolchester Timothy H. Lynch
Darby Jane Petkofsky
The Production Team
Director Ricky Drummond
Assistant Director Magenta Howard
Stage Manager Allison Poms
Assistant Stage Manager Seo-Jin Lee
Scenic Designer Matthew J. Keenan
Lighting Designer Hailey LaRoe
Sound Designer Gordon Nimmo-Smith
Costume Designer Alison Samantha Johnson
Properties / Set Dressing Designer Cindy Landrum Jacobs